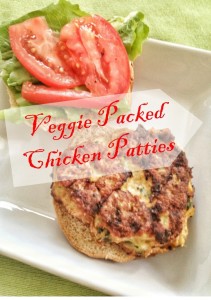 Do you have a hard time getting your kids to eat their vegetables? Maybe even your husband? I will even admit that I sometimes have a hard time eating the vegetables I need. I would much rather reach for a piece of fruit than vegetables any day. So I am always trying to sneak vegetables into my meals.
 Yes, I know there are whole cookbooks on sneaking vegetables into dinner dishes, but I'm not really one to take the time to puree something unless I really, really have to. I'm just a little too lazy pressed for time for that!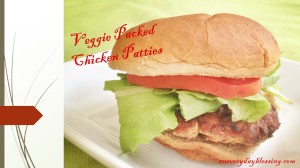 One of my go-to meals is Veggie Packed Chicken Patties. These chicken patties are loaded with veggies and protein, and I love that I know I'm serving my family a healthy meal. My two year old eats these patties right up even without a bun. One of my favorite things about this recipe is that it makes more than enough to feed our family, and I am able to throw the extras in the freezer for another easy meal (or two).
Veggie Packed Chicken Patties
Ingredients
2 lbs ground chicken
6 eggs
1 medium onion
1 cup carrots, finely chopped
1 cup kale or spinach, finely chopped
1 tsp sea salt
coconut oil for cooking
Direction
1. In a large bowl, combine all ingredients except coconut oil. Mix until well blended.
2. Heat the coconut oil in a large skillet. Spoon chicken mixture into hot pan, pressing down with spoon to form patty. (I like to use an ice cream scoop to spoon chicken mixture). Cook for about 5 minutes on each side, until chicken is thoroughly cooked and each side is lightly browned.
(This made about 16 chicken patties for me)
3. Serve on a bun with your favorite sandwich toppings.
Tip: These chicken patties freeze well! Simply lay in a single layer on a baking sheet. Once frozen move them to a freezer bag. I like to reheat them in the oven (350 degrees for about 10 minutes), but have also used the microwave.
You May Also Enjoy:
           Slow Cooked Chicken Caesar Salad                       Ranch Chicken
Toasted Chicken Salad                               Baked Pineapple Chicken

by

Related Posts via Categories