Creamy Chicken Soup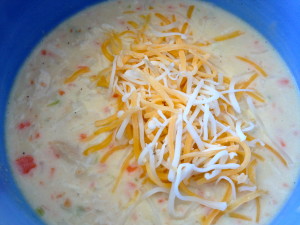 2 boneless, skinless chicken breasts, cooked and finely chopped
4 Tblsp butter
1 cup finely diced onion
¾ cup finely diced celery
3/4 cup finely diced carrot
¼ cup flour
2 cups chicken stock
2 cups milk
1-2 Tblsp lemon juice
Shredded Cheddar Cheese to garnish (optional)
salt and pepper to taste
In a pot, melt butter and add finely diced onion, celery and carrots until they are soft, about 5 minutes?
In a small bowl, whisk flour and milk together until well blended.  Add mixture to the vegetables.
Stir chicken stock into pot.  Bring to a boil, then reduce heat to medium and let soup simmer until it thickens (about 20 minutes).  Stir frequently!
Add shredded chicken, lemon juice, salt and pepper to taste.  Cook for another 3 minutes or until chicken is heated through.
Pour soup into bowls, garnish with a bit of cheese and enjoy!