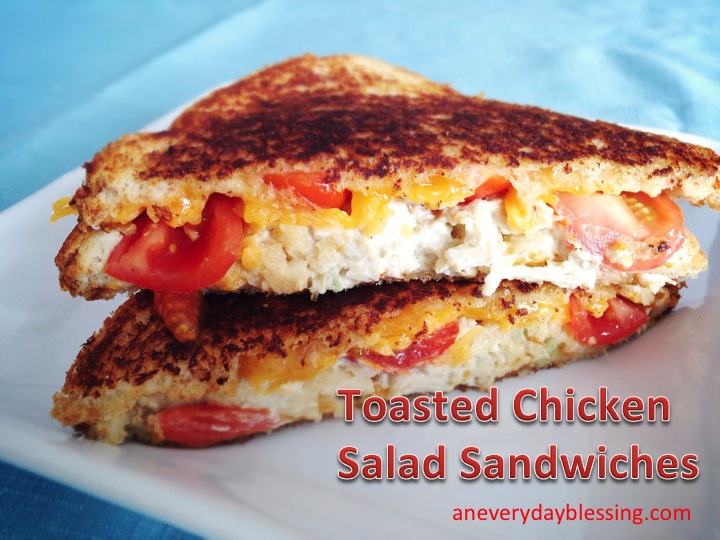 One of my favorite "go-to" meals for an easy lunch or quick dinner is Chicken Salad. My husband will even eat a chicken salad sandwich for breakfast sometimes. When I know we're going to have a busy week, I make sure I have a bowl of Chicken Salad in my refrigerator. Then I don't have to worry about what we're having for lunch or even dinner some days.
One of the reasons I love Chicken Salad is that it is such a versatile meal. Awhile back I posted "Six Ways to Serve Chicken Salad". So we don't really get bored with it either!
This Winter as we have had one frigid day after another, many days not even reaching zero degrees, I have enjoyed having my Chicken Salad warm. Toasted Chicken Salad has been a regular meal in our home! I love serving it with fresh fruit and veggies and a side of sweet potato fries.
Toasted Chicken Salad
12 slices of bread
3 cups cooked chicken (you can also use 2 12.5 oz canned chicken)
1/2 cup light mayonnaise, plus extra for spreading on bread
1 cup shredded cheddar cheese
1 large tomato, sliced
1 stalk celery, diced
½ cup (peeled) apple
salt and pepper to taste
Finely dice the cooked chicken, celery and apple.  I like to use my Vitamix food processor to do this!
Mix chicken, celery, apple, and mayo in a bowl.  Salt and pepper to taste.
Lightly spread mayonnaise on one side of each slice of bread. The mayo helps give the bread a nice golden color when toasting. On the opposite side of four slices of bread sprinkle a light layer of cheese, spread some chicken salad, top with a slice of tomato, sprinkle another light layer of cheese and top with a slice of bread. Repeat.
Place sandwiches onto an electric skillet or a cast iron skillet. Toast sandwiches over medium-low heat until outside of bread is lightly browned and cheese is melted. Serve warm.
Note: You'll most likely have enough chicken salad to make more than 6 sandwiches. I make what I need for dinner and then we have leftover chicken salad for sandwiches for a couple days. At some point I loose track how many sandwiches I actually make!
I link up to these Blog Parties!

by

Related Posts via Categories