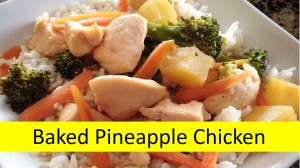 For some reason, Sunday's has turned into "Stir-Fry" days at our house. It's a meal that can quickly be whipped together and I love that for the most part (other than the rice) it is a one pot dish.
A couple Sunday's ago I stayed home from church because my little guy wasn't feeling well. The house was still a bit chilly and I wanted to put something in the oven to help warm it up. So I decided to bake our stir fry instead. My husband loved it and we will definitely be making it again.
Baked Pineapple Chicken
2 pieces boneless skinless chicken (about 1 – 1 1/2 lbs)
3 cups fresh broccoli, chopped
2 cups carrots, chopped or julienned
1 can Pineapple chunks
1/2 cup packed brown sugar
1/3 cup soy sauce
Directions
Preheat oven to 350 degrees
Lightly steam broccoli and carrots. (I just steamed them for 2 1/2 – 3 minutes until they were slightly cooked but still had a bite to them)
Cut the chicken into bite size pieces, about 1 inch.
Drain the juice from the pineapple chunks into a small bowl (it will be about 1 cup).  Stir in the brown sugar and soy sauce.
Toss vegetables, pineapple, chicken and sauce together in a 9 x 13 baking dish. Bake for 30-35 minutes until chicken is no longer pink. Serve over rice.
To freeze: Cut up vegetables and chicken as directed. Toss all ingredients together in a freezer bag. Don't pre-cook the chicken, as it will just dry out when you have to cook it again. When ready to make, simply thaw and cook as directed.
This recipe was feature at:

by

Related Posts via Categories