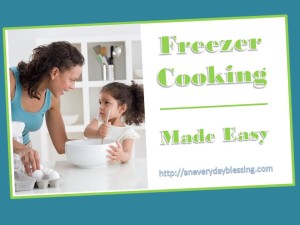 When it comes to freezer cooking, chicken is something I am really picky about. If chicken is cooked, frozen, then recooked, it tends to taste dry to me.
So for me, a lot of my chicken dishes that go into the freezer will be uncooked. Often I will just prep chicken and freeze it in portion sizes. For example, I will dice raw chicken in small pieces for a stir fry. Other times I make the marinade and toss it in a ziplock bag with a couple pieces of chicken and toss it into the freezer to cook later.
Today I am sharing with you two of my favorite chicken freezer meals. Make it easy on yourself! When making the chicken fajitas, make a double batch – one for dinner tonight and the other for the freezer. It doesn't take that much more effort to do the extra chopping. And if you have to make a mess for one meal, you may as well get two meals out of it, right?
If you missed last weeks post, check out Freezer Cooking: Soup Edition, with three easy soup recipes.
Oven Baked Chicken Fajitas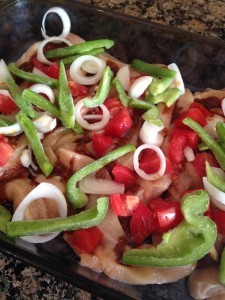 (Recipe slightly adapted from Real Mom Kitchen)
2 boneless skinless chicken breasts
2 tbsp vegetable oil
2 tsp chili powder
2 tsp cumin
1/2 tsp garlic powder
1/2 tsp dried oregano
1/4 tsp salt
1 large tomato diced*
1 medium onion, sliced
1 large bell pepper, sliced
8 flour tortillas
Optional Toppings: Shredded cheese, sour cream, gaucamole
* May use a 15 oz can of diced tomatoes with green chilis if desired!
Directions:
In a small bowl, combine vegetable oil, chili powder, cumin, garlic powder, oregano and salt. Mix well.
Cut chicken into strips.
Freezer Instructions: Place into a large ziploc bag. Add sliced pepper and onion. Pour in the sauce. Seal bag. Shake well until all ingredients are evenly distributed and the sauce coats the chicken and peppers. Lay flat in a freezer.
Cooking Directions: Thaw  Fajita mixture. Place in a 9×13 baking dish. Bake uncovered at 400 degrees for 20-25 minutes, or until chicken is fully cooked.
Serve with desired toppings.
Baked Creamy Chicken Taquitos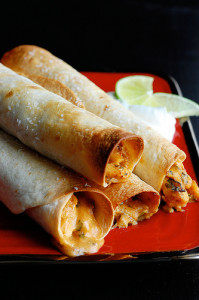 (photo from Seeded at the Table, recipe slightly adapted from Seeded at the Table)
8 oz cream cheese
1/2 cup salsa
2 Tblsp fresh lime juice
1 tsp cumin
2 tsp chili powder
1 tsp onion powder
6 tblsp fresh chopped cilantro, opional
4 cups cooked chicken, shredded*
2 cups Mexican style cheese
20-24 small flour tortillas
kosher salt
cooking spray or melted butter
* Make it super easy and use a rotissorie chicken. I usually get about 4 cups of shredded chicken from one.
Directions
Line a baking sheet with parchment paper.
In a large bowl, mix cream cheese, salsa, lime juice, cumin, chili powder, onion powder and cilantro.  Add chicken and cheese. Mix until well blended.
Place about 2-3 tablespoons of the mixture onto the lower third of a tortilla. Roll tortilla as tightly as you can. (It is best to use tortillas that have not yet been refrigerated).
Lay tortilla seam side down onto baking sheet. Repeat process until mixture is gone.
Freezer Instructions:  Before baking, place baking sheet in freezer for 1-2 hours, until taquitos are frozen. Once frozen, place taquitos into a freezer ziploc bag.
To bake: Preheat oven to 425 degrees. Take out desired amount of taquitos and place onto a baking sheet.  Spray with cooking spray or brush with melted butter. Sprinkle with kosher salt. Bake for 15-20 minutes. (No need to thaw)

by

Related Posts via Categories