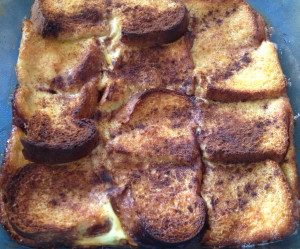 A favorite breakfast in our home is French Toast.  Since my husband was away on business for almost a week, I thought I'd surprise his favorite breakfast his first morning home.
Instead of making normal french toast, I decided to make a French Toast bake.  I was able to put it together the night before, and simply pop it into the oven when I got up the next morning.  Oh, does it smell a-MAZ-ing while it's baking.  The aroma of cinnamon and sugar fill up the house.
A French Toast Bake is perfect for an Easter or Mother's Day Lunch.  It's great when you have out-of-town guests.  And it's always a hit for any breakfast potluck.
I have no doubt you will enjoy this dish as much as we do!
French Toast Bake
1 stick butter, melted
1 cup brown sugar
6 eggs
1 1/2 cups milk
dash of salt
1 tsp vanilla
10-12 slices of bread, cut into fourths
3 medium apples (optional
Cinnamon and sugar
1.  Melt butter in the bottom of a 9×13 baking dish. Pour brown sugar evenly over butter.
2.  Layer bread in dish (2 layers).  If you are adding apples, place fruit between layers.
3.  In a bowl, mix eggs, milk, salt and vanilla. Pour over bread. Sprinkle a little cinnamon and sugar over top.
4.  Cover dish and refrigerate overnight (or for at least 2 hours).  Uncover dish and bake at 350 degrees for 45 to 60 min, until light brown and bubbly.  If you are using a glass dish, place it in the oven when you turn the oven on

by

Related Posts via Categories