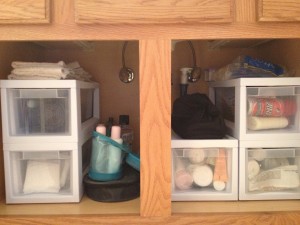 For a long time the storage in my bathroom cabinet was a mess. It drove me crazy. I tried using baskets from the dollar store, but once filled with extra shaving cream cans, shampoo bottles and whatever else I couldn't stack them.
Finally, this last Spring I went to Walmart and bought plastic drawers. I so wish I had done this years before! This is what is in each drawer:
Drawer #1 – Hair brushes, blow dryer, curling iron
Drawer #2 – Femine Care products
Drawer #3 – Extra make-up, facial washes, q-tips, etc.
Drawer #4 – Men's toiletry items
Drawer #5 – Women's toiletry items
Not only has the drawer help declutter and organize our bathroom storage, it helps my husband put things back in the proper place. It's a win-win as far as I'm concerned! And just in case you ever have to move, this system makes packing and unpacking of this cabinet super easy, since all you have to do is pack the drawers with everything still in them.

by

Related Posts via Categories