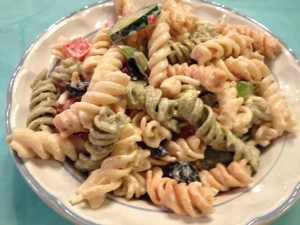 Summer is coming, which means lots of grilling, picnics and barbeques. If you're like me, you're looking for something that's tasty and easy to make to bring to the next gathering.
Look no farther! This pasta salad is just for you.
It has all the basic ingredients of a typical pasta salad, with just a little twist. Creamy Italian Dressing.  The creamy Italian dressing changes the "look" of the pasta salad….making it stand out from all the others. The creamy texture boosts the flavor and will have everyone asking, "What is the secret ingredient?"
Just try it. You won't be disappointed!
Creamy Italian Pasta Salad
1 (16 oz) box rotini pasta (I used tricolor)
1 (16 oz) bottle of Creamy Italian Dressing
1 large tomato, diced
1/2 a cucumber, sliced
1/2 green pepper, diced
1 (6 oz) can black olives
1 cup shredded parmesan
1.  Make pasta according to package instructions. Drain and cool.
2.  In the meantime, chop vegetables and slice olives in half.
3.  In a large bowl, mix all ingredients together. Keep refrigerated until serving. (I like to add dressing before serving, otherwise the pasta just soaks it up and you'll have to add more).

by

Related Posts via Categories