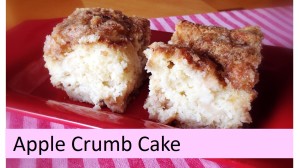 Today I thought I'd share with you my favorite apple coffee cake recipe. Several years ago I stumbled across it online and quickly wrote out the recipe.
One day I went to make the recipe again and I could not find it anywhere. I looked through all my recipe books and files. I scoured the internet looking for the recipe again and couldn't find it. I originally found it on the website of a bed and breakfast, but this time nothing was coming up.
I was heartbroken. I thought for sure I had accidentally thrown out the recipe, never to be found again. Thankfully, it turned up one day and I made sure to put it in a place where I could find it again.
Needless to say, this Apple Crumb Cake is Ah-maz-ing! The yogurt keeps it super moist, and depending on the type of apples you use, it has the perfect balance of tangy and sweet. It is great for a breakfast or brunch, and could even be used as a dessert. I hope you enjoy this cake as much as I do.
Apple Crumb Cake
1/2 cup unsalted butter, room temperature
1 cup sugar
2 eggs
1 tsp vanilla
2 cups all-purpose flour
2 tsp baking powder
1/2 tsp baking soda
1 tsp salt
1 cup plain yogurt (I've also used plain Greek Yogurt)
2 large baking apples, cored and diced into small bites (2 cups)
Topping
1 cup brown sugar
1 1/2 tsp cinnamon
1 Tblsp unsalted butter
Directions
Heat oven to 350 degrees. Grease and flour an 8×8 inch cake pan.
In a large bowl, cream butter and sugar with a mixer until light and fluffy. Add eggs one at a time blending well. Stir in vanilla.
In another bowl, mix flour, baking powder, baking soda and salt.
Add flour mixture to creamed mixture in batches, alternating with yogurt. Mix until blended.
Fold in apples and pour batter into cake pan.
In a small bowl, stir together brown sugar and cinnamon. Cut in the butter with a pastry blender or using your fingers until the sugar mixture is crumbly. Sprinkle evenly over cake batter.
Bake for 50-55 minutes, until cake is golden brown and a toothpick inserted in center comes out clean. Cool in pan for 15-20 minutes before turning it out onto a wire rack. Invert and place onto a serving platter.
Update: This recipe was featured at…

by

Related Posts via Categories