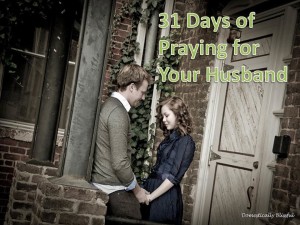 Today begins Week 2 of the 31 Day challenge of "Praying for Your Husband". If you missed Week 1, that's okay. You may find the first week's prayers and scriptures passages here.
Once again, I created a FREE Printable for you. Keep it in a place where you will see it often so that you are reminded to pray for your husband throughout the day.
May the Lord's blessings be on your marriage as you lift up your husband in prayer!
Day 8 – Pray that your husband will be faithful to his wedding vows. Pray that he will have a desire to cultivate your relationship as a sign of his loyalty and commitment to you, and as a picture of Christ's love for the church. (Proverbs 20:6; Genesis 2:24)
Day 9 – Pray that your husband will love righteousness and hate wickedness, especially the evils of the culture. Pray that he will recognize and avoid wickedness in his own life, and if necessary, take a clear, strong stand against evil. (Proverbs 27:12; John 17:15; I Corinthians 10:12,13)
Day 10 – Pray that your husband will cultivate strong integrity, and not compromise his convictions. Pray that his testimony will be genuine, that he will be honest in his business dealings, and will never do anything that he needs to hide from others. (Proverbs 20:7, Ephesians 6:10-12)
Day 11 – Pray that your husband will have a humble, teachable spirit and a servant's heart before the Lord. Pray that he will listen to God and desire to do His will. (Proverbs 15:33; Ephesians 6:6)
Day 12 – Pray that your husband will speak words that build you and your family and reflect a heart of love. Pray that he will not use filthy language or tell crude jokes. (Proverbs 18:21; Ephesians 4:29)
Day 13 – Pray that your husband will choose healthy, God-honoring activities. Pray that he will not live in bondage to any questionable habits or hobbies, but that he will experience freedom in holiness as he yields to the Spirit's control. (1 Corinthians 6:12; 1 Corinthians 10:31; 2 Timothy 2:4)
Day 14 – Pray that your husband will have an eternal perspective – living in light of eternity. Pray that he will reject materialism and temporal values and put God first in his life. (Matthew 6:33; Deuteronomy 6:5; Ephesians 5:16; Psalm 90:12)

by

Related Posts via Categories