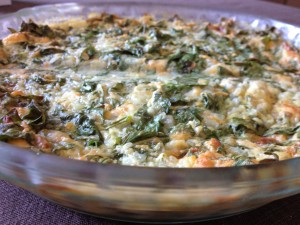 Today is Moving Day for my family. Most of our house is packed up and ready to….including ALL of our dishes and everything in our kitchen. Last night my sweet sister brought us a Spinach Quiche so we could enjoy a hot breakfast. So delicious!!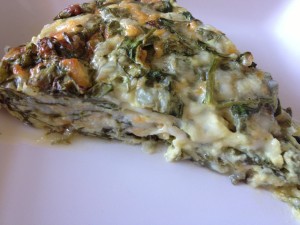 We love this Spinach Quiche. It's a great dish to make early in the week and have for breakfast for the next few days. It reheats really well! Serve with fruit for a refreshing, balanced breakfast.
Spinach Quiche
1 10 oz bag of spinach, chopped
2 T melted butter
1 container cottage cheese
2 cups shredded cheddar cheese
4 eggs, beaten
Directions
1.  In a bowl, mix all ingredients together.  Pour into a greased 9-inch pie plate.
2.  Bake at 350 for 40 minutes, or until knife inserted comes out clean. Let stand for 5 minutes before serving.

by

Related Posts via Categories