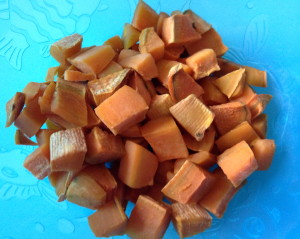 Our little guy is 10 1/2 months and has started to push away some of the pureed food I make.  So for the past couple of weeks I've been making Sweet Potato Bites for him.  These are the perfect finger food.  He LOVES them!  I have to admit, they are super tasty!!
Not only are they super tasty, they are super simple AND they don't have to be just for the little one.  Kids and adults of all ages will like them.  I love making a big batch and freezing them so that I always have some on hand.
Sweet Potato Bites
(9-12 months)
3 medium Sweet Potatoes
1-2 Tblsp olive oil
(optional: you may add a pinch of cinnamon, paprika and cumin)
1.  Preheat oven to 350 degrees.
2.  Peel and cube sweet potatoes into small bites size pieces
3.  Toss sweet potatoes with oil and place them on a baking sheet in a single layer
4.  Bake for 20-30 minutes, or until the sweet potatoes are tender.
Freezer tip:  Cool potatoes.  Keep potatoes on the baking sheet in a single layer, and freeze for 1-2 hours.  Then transfer frozen potato bites into a freezer bag.  OR scoop cooled potatoes into baby freezer containers…that way you have your baby's servings already portioned.

by

Related Posts via Categories