A week ago, after already being in the hospital for three days, I had unexpected surgery. This was definitely not on my agenda. After all, I had lots to do!
Life is always busy. I've had a lot to do without the time to fit it all in. My husband and I had a Summer filled with one thing after another, and I am now playing catch-up trying to get needed things done. Between being a wife, a mom, the keeper of my home and church ministry I was (am) feeling overwhelmed, tired and exhausted.
Yet God used this time of illness (however unwanted it is) to slow me down.
In the quiet, solitary moments of sitting in a hospital room, I spent time with God. As much as I could, between the dizziness and nauseousness the pain medicine caused, I picked up my Bible and read.
"Even youths shall faint and be weary, and young men shall fall exhausted; but they who wait for the Lord shall renew their strength; they shall mount up with wings like eagles; they shall run and not be weary; they shall walk and not faint." – Isaiah 40:30,31
Oh, those verses were a balm to my soul as I read them!
I have to admit that being home recovering is a humbling experience. I am a "doer", I love to do for other people. I am use to taking care of my husband and my son. I love making breakfast and cooking dinner. And yes, I even love cleaning my home…or at least the accomplishment that it brings.
It's hard to let people do things for me. It's hard for me to ask for help, yet help is what I have needed. Help with laundry, help with meals, help with caring for my son.  With having normal responsibilities removed (temporarily) from my "to-do" list, I have had some extra time of solitude.
Yesterday, I sat in a quiet house as my sister took my son to play at the park. During those moments, I had a chance to read a chapter of "Women Living Well" by Courtney Joseph.  A couple of her main points include:
1)   Slow down to connect with God. She encourages that "We must slow down and create calm moments. It is in our unhurried moments that we can see and hear clearly."
2)   Practice solitude in season. Courtney writes, "In the winter here, we have forced dormancy…we women need forced dormant moments where we come inside to be alone with God."
3)   Drink from the living water. "The Word of God is full of living water. We need to drink deeply from this living well so we can be women living well."
Lastly, I want to leave you with a quote from the book that spoke to me most!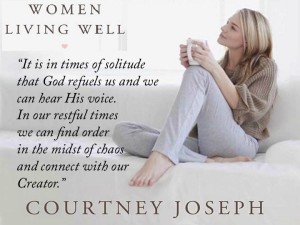 by

Related Posts via Categories