Hi Ladies!
I am so excited to be a part of the pre-launch team for the book by Courtney Joseph, "Women Living Well: Find Your Joy in God, Your Man, Your Kids and Your Home"! I recently received an advance copy of the book and look forward to sharing my review once I finish reading it.
But before I share my review, I wanted to share this great opportunity. For those who pre-buy the book, check out the giveaway over at Women Living Well. When you purchase one copy of the book, you will also receive 10 free e-books!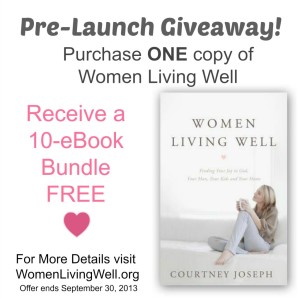 Over on the Women Living Well blog you may also view a trailer. So hurry over and take advantage of the opportunity while it is still available.

by

Related Posts via Categories