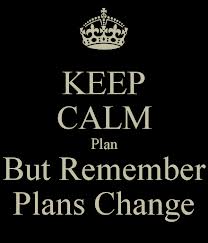 A week ago I had a lot of my own plans for this coming week.
Saturday I planned to bake, clean and attend football games. Instead I was rushed to the ER in an ambulance with severe abdominal pain.
Sunday I had planned to teach a Sunday School lesson to Freshman girls, host a "Fantasy Football Draft" party for my husband, launch a new year of Kid's Choir at church in the evening and visit with family at my parent's house and celebrate the coming birthday of my nephew.
Instead I sat in a hospital room praying I wouldn't need surgery and that my pain would dissipate.
Monday I had planned to enjoy the day with family for a Family Reunion. Instead I still sat in a hospital bed knowing surgery was inevitable.
On Tuesday, instead of being home preparing for a garage sale I wanted later in the week, I had surgery.
And today, as I had planned to have a garage sale, I am home recovering….barely moving.
No, this week has not gone how I planned it to go. In fact, there are major events in my life that have not gone how I thought they would go – how old I'd be when I got married, how many children I would have, even my ability to conceive children.
Yet God knew. He had other plans for me.
Jeremiah 29:11 says, "For I know the plans I have for you," declares the LORD (ESV).
And Isaiah 55:8-9 teaches us that, "My thoughts are not your thoughts, neither are your ways my ways, declares the LORD. For as the heavens are higher than the earth, so are my ways higher than your ways and my thoughts than your thoughts."
Through every twist and turn, God has taught me to lean on Him, to trust Him, to look to Him no matter what. I have learned that "His grace is sufficient for me…." (2 Corinthians 12:9). With every plan that has not been my own, I have learned that God is good all the time. All the time, God IS GOOD! 
No, my plans may have not turned out how I envisioned, yet God had (and HAS) an even better plan for me.
I can say, "I am confident of this, I will see the goodness of the Lord…Wait for the LORD, be strong and take heart and wait for the LORD" (Psalm 27:13,14, NIV).

by

Related Posts via Categories