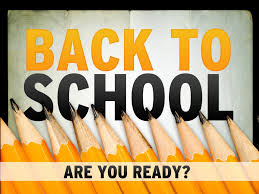 If you know me, you're probably laughing at this title or scratching your head in confusion, because you know that I don't have school aged children. But it's true. I am super excited for school to start.
During the Back to School Season it's fun to get fresh boxes of crayons or colored pencils, scoring deals on "school" items, even getting them for free. But that's not why I'm so thrilled about school starting.
"Why?" You might ask? Well, thanks for asking! It can be summed up with one word…
ROUTINE
Between moving, two weeks of Vacation Bible School, numerous graduation and birthday parties, unexpected traveling, a death in the family, and teen camp along with trying to balance home life, this Summer has had anything BUT routine.
I love routine. I thrive when I have a routine. I love schedules and having a plan.
There's something about Back to School that says "routine", even if you don't have school age kids. While our schedule is still quite full, I am so looking forward to settling into some type of normalcy that the Back to School season brings.
Back to School also means the beginning of the Fall season, and I so love the everything about the Fall. I love the slightly cooler (but not so cold) weather, the changing colors of leaves, canning and apple picking, the smell of pumpkin spice, baking and sipping hot cocoa.
What do you love most about the Back to School season?

by

Related Posts via Categories