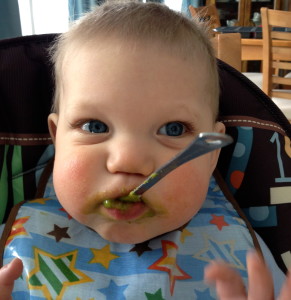 My son loves his vegetables.  While he pushes away some of the pureed veggies, he still loves his Swaccoli (sweet potatoes and broccoli)!  He won't even let go of the spoon.  Best yet, I love making it.  It is so simple to make and packed with great nutrition.
Swaccoli
(adapted from www.nurturebaby.com)
2 medium sweet potatoes
2 medium stalks of broccoli
1/2 cup to 2/3 cup of water
1.  Preheat oven to 400 degrees. Wrap sweet potatoes in foil (I like to puncture the potatoes a few times with a fork before wrapping). Bake for 40 minutes
2.  Wash and cut broccoli into small chunks.  Steam for 5-6 minutes, until broccoli is tender.
3.  Once sweet potatoes are cool to touch, peel off the skin.  Place sweet potato and broccoli into a blender and blend until smooth.  Add water if necessary.
4.  Distribute mixture into desired freezable containers.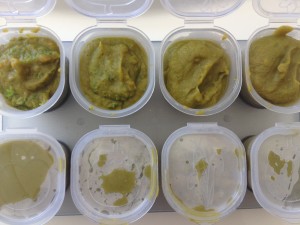 Servings:  This recipe made 13 2-oz servings!

by

Related Posts via Categories