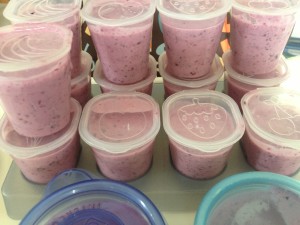 Yogurt is a staple food in most baby diets.  Yet at $2+ for a four pack, the expense can add up rather quickly. Not only that, but have you ever looked at the ingredients? It doesn't even contain real fruit. It only has "fruit flavoring".
By making your own yogurt you can:
1.  Save money – I paid roughly $4.50 and made 16 2-ounce serving portions!
2.  Serve real fruit
3.  Use any flavor combo you want – Most stores just carry banana or vanilla flavored.  Make your own and use any fruit you want!  I am so looking forward to making peach yogurt!!
Blueberry Yogurt
32-oz container full fat plain yogurt
4 cups blueberries (fresh or frozen), cleaned
2 tblsp honey (use sugar if your baby is under 12 months)
Directions
1.  Place blueberries and honey in a small saucepan.  Cook over medium heat for 10-15 minutes, until juices come out of the fruit.
2.  Let blueberries cool for at least 30 minutes.
3.  Place blueberries in a blender or food processor. Blend until smooth. In a large bowl, mix blueberries and yogurt together.
4.  Spoon into desired containers (you may use individual containers, or put into a large one and take out portions when needed)

by

Related Posts via Categories