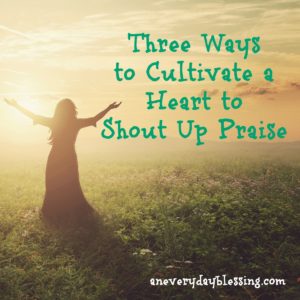 It was a warm Spring day. I was at a local forest preserve with my Mom and sister. We were taking turns watching kids while the others got a workout in walking the steep stairs.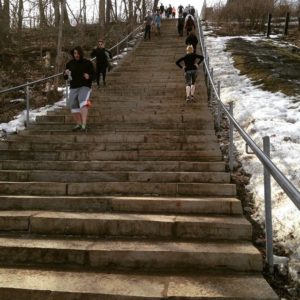 It was my turn to walk. So I pulled out Scripture Verse memory cards out, psyched myself up and started walking. On one of my first times back down the stairs, I saw a woman coming up the other side. She had a t-shirt on that said, "Shout Up Praise".
Shout up praise. Oh, there had been a lot of shouting that morning. Shouting praise was not one of them.
That morning had been an ugly morning. I had a rough night of sleep, which made it hard to wake up. My time with the Lord was rushed, if I had a chance to get anything in at all. Prayer time was absent, meaning my Praise time was absent.
Then came the rush of the morning. I was running around trying to get my kids dressed and fed, lunches made, and everyone loaded up into the van.
On the other hand, my kids, as excited as they were to go on this adventure, did not feel rushed. They felt obedience was optional that morning. They wanted to do their own thing. And this tired, missed her time with the Lord mama did not handle any of that well.
Shout Up Praise. I had missed it. I missed giving praise to God. I failed to praise my kids for even the small percent of what they were doing right. I shouted out the negative, instead of shouting up the praise. And the sad thing is, I miss the mark quite often.
It is so easy to "shout out" the negative. I am quick to yell at my kids for what they do wrong, but fail to "shout out" when they are doing right. Yet as their mom, I should be their loudest cheerleader. My affirmations to them should be louder and far greater than pointing out their faults.
In the same way, my praises to God should be far louder and much greater than my complaints. Even as I write these words today, I am reminding myself how that I need to Shout Up Praise more often than I actually do.
Here are 3 ways to cultivate a heart that Shouts Up Praise
1. Turn Up the Praise Music
Music sets a mood in our home. Nothing warms my heart more than hearing my kids singing praises to God. Psalm 47:6 says, "Sing praises to God, Sing praises." God wants to hear us singing His praise too!
I find that when we have praise music on in our home, the mood is lighter, attitudes are better, my spirit is a little more joyful, and so my response to my kids is sweeter.
2. Read a Psalm
The Psalms are full of praises to God. Chapter after chapter lifts up the name of God, brings the character of God to light and gives us a reason to praise Him.
As you read a Psalm, underline or highlight the word "Praise" or "joy". Write down who God is to you in each chapter.
Psalm 18, verses 2 and 3 say, "The Lord is my rock, my fortress and my deliverer; my God is my rock, in whom I take refuge. He is my shield and the horn of my salvation, my stronghold. I call to the Lord, who is worthy of praise."
Just in those short verses, there is so much to shout up praise to God! Take time to read a Psalm and Shout Up Praise to God.
3. Practice giving thanks to God and to others each day
Looking at the concordance in my Bible, I can tell that God has much to say about "thanks" and thanksgiving. Probably one of the most well known verses is, "Give thanks in all circumstances" (1 Thessalonians 5:16). Sometimes it is easier said than done.
I find on the days that I want to grumble and complain (mostly because things are not going how I want or planned), I am slowly (s-l-o-w-l-y) learning to give a prayer of thanks.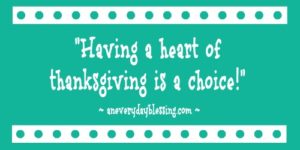 Having a heart of thanksgiving is a choice! I have to choose to give thanks when dishes are piled high, because it means I have a family to cook for and actual food to prepare. I have to choose to give thanks for the kids God blessed me with, even if they somehow created four loads of laundry overnight.
At the end of each day, take time to write down something you are thankful for about the day. As the saying goes, "There is always, always, always something to be thankful for". It will be a treasure months, or even years down the road, as you look back on the things that God blessed you with each day.
I know for me, that when my heart is in tune with praising God, I have a sweeter attitude with my family. Having a sweeter attitude, I am more likely to shout up praise to my kids too!
Will you join me this week in shouting up praise to God, and finding ways to praise our family as well?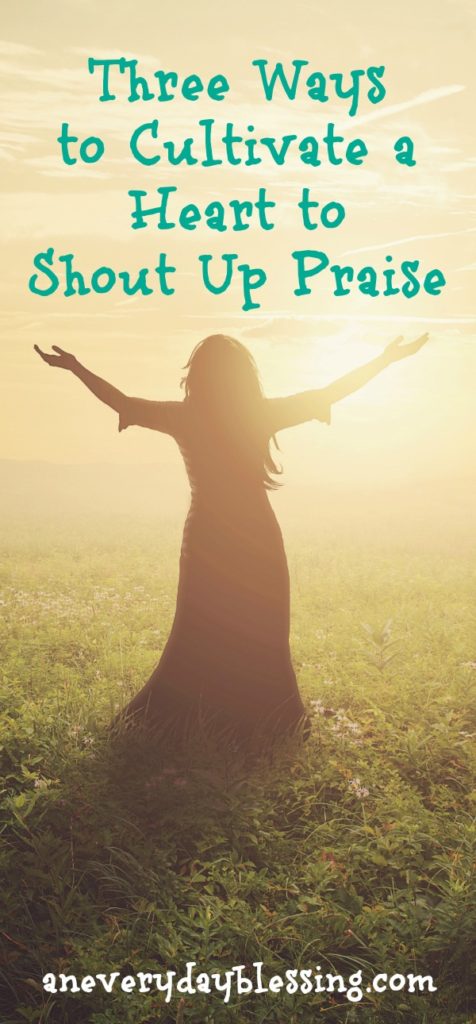 You Make Also Like: 

by

Related Posts via Categories