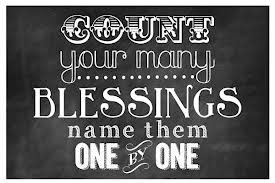 Do you ever wonder when life will slow down for just a little bit? Yet somehow it seems to get busier and busier. These last few months, and especially the last few weeks have really felt like that. Each day is full of decisions, deciding which things on my list are priorities. My family and my home come first, so here I am again catching up here with my blessings!
The Blessing of Hospitality
This blessing comes in a few ways, and I have had the wonderful opportunity to share and receive this blessing several times these last few weeks. A great way to receive a blessing is to be a blessing to other people. Somehow I always feel more blessed by doing something for someone else!
Once again we have had the blessing to host a ministry team that came to help with a youth event at our church. It's always a blessing to spend time hearing how God is using other people to serve Him, and I love hearing the stories of how God is working in each person's life.
Another blessing of hospitality is through cooking. As we had guests over, I had the opportunity to make meals for them. In the last few weeks I have also had the blessing to bring meals to different people. I am so thankful my mom took the time to teach me how to cook when I was younger, and also for the example she set in serving other people.
Hospitality also extends outside the home. In the past few weeks I have had the pleasure of making meals for people and bringing it to their home.  One was for my aunt andis for uncle who moved into a new home, and the other was for a friend who just had a baby. Having been on the receiving end of meals for these big life events, I know what a blessing this form of hospitality is.
 

The Blessing of Family Time
This blessing really deserves its own post (and maybe I will give it one). But in a nutshell, we took our first family vacation…the first real vacation my husband and I have had in almost seven years. We didn't think the trip would happen, but it all seemed to fall into place.
This was one fantastic week. It was so nice to get out of the frozen tundra that we've had and travel south to the warmth of the sun in Florida. Prior to the vacation, my husband had been working some really long hours. This extra family time was greatly needed.
Not only was the family time needed, but time away from home and normal responsibilities. My husband left his work laptop at home. For the most part, my laptop stayed closed. We mostly used our computers to watch Curious George with our son.
To top the week off, we were able to spend time with my youngest brother. Lucky for him he doesn't have to deal with our frozen tundra at all because he lives in Florida! We stayed with him in his apartment, and in turn he received some home cooked meals.
Overall, we came home feeling reenergized and refreshed from our trip and are so glad we were able to finally take a vacation.
Birthday Blessings
While we were in Florida, my mom had a birthday. My mom is such a blessing to our family. She is the definition of a "servant's heart". She is always looking to the needs of other people and ministering to someone. My son absolutely adores his "Gamma". Whenever we ask him where we are going, his answer is always "Gamma's".
This past Saturday my sister hosted a birthday party for my mom. What a blessing it was to spend time with our family!
The Blessing of Sunshine
As this has been one terribly long winter, we have not had much sun. I think we are all feeling the effects of that. This past week we've had a few sunny days though and it has been so nice. I love opening up all the curtains and blinds and feeling the warmth of the sun in my home. Today the temperatures are creeping up into the 50's, so we may even be able to go for a walk outside…especially since the snow melted from the sidewalks.
What about you? What have been some of your recent blessings?

by

Related Posts via Categories