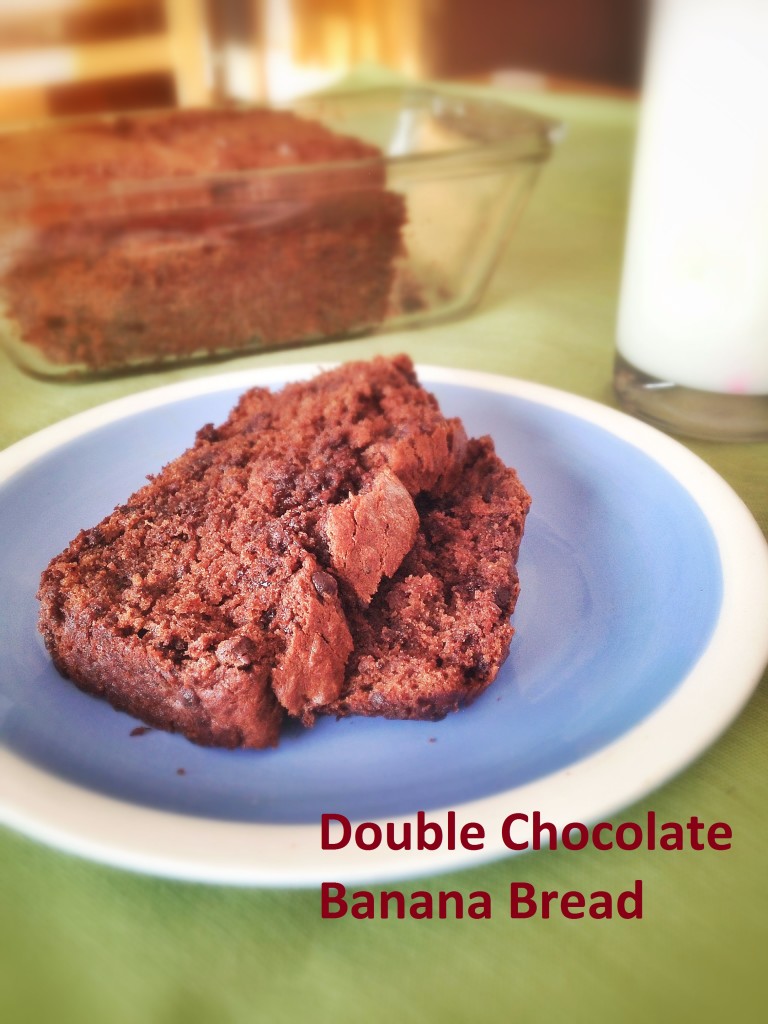 Banana Bread is a favorite in our house. And not just regular banana bread, but chocolate chip banana bread. After all, chocolate makes everything taste so much better!
One of my favorite ingredients to put in banana bread is instant vanilla pudding. One day I went to make banana bread, but I didn't having any vanilla pudding left. Just chocolate pudding. Hmmmm?!?! We like banana bread. We like chocolate. How about some chocolate banana bread?
I admit, I was a bit leery of what the final product would taste like. However, I was not disappointed. This banana bread turned out absolutely amazing. Everyone who tasted it loved it. So just try it! It will just melt in your mouth.
Double Chocolate Banana Bread
1 cup butter, melted
1 cup sugar
2 eggs
1/4 cup cocoa powder
1 3.4 oz packet instant chocolate pudding
3 to 4 ripe bananas
1 3/4 cup flour
1 tsp baking soda
1 cup semi-sweet chocolate chips
Directions
1.  Preheat oven to 350 degrees. Grease a loaf pan.
2. Combine butter and sugar. Mix well. Add eggs, cocoa powder and chocolate pudding. Mix until well blended.  Mash bananas and mix into batter. Stir flour and baking soda into mixture. Blend well. Fold the chocolate chips into the batter.
3.  Bake for 50-55 minutes, until toothpick in center comes out clean.

by

Related Posts via Categories