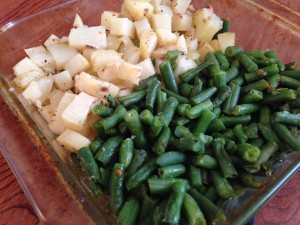 It is so easy to find a good recipe for a main dish, or even a dessert. Look on Pinterest and you will no doubt see several without even scrolling down the page. But finding a recipe for a side dish is a different story.
I don't know about you, but when it comes to making dinner most of my energy goes into the main dish. Then I stand there thinking, "Well, what am I going to put with this?" So I end up steaming some vegetables, and throwing a salad together. But that can get a little boring.
I love making these Italian Potatoes and Green Beans because it doesn't take much effort. Yes, it does take some planning, as it cooks for one hour in the oven. However, other than a few minutes of prep, you can just put them in the oven and not think of it again until the timer beeps. And who doesn't love a dish that helps warm up your house in the colder winter months?
This is also a versatile dish. Serve it with chicken or beef. It compliments a meatloaf fantastically, and I love serving them with my Beef and Cheddar Pot Pie!
Italian Potatoes and Green Beans
6-8 red potatoes
1 16 oz bag of frozen green beans, thawed
1/4 cup butter, melted
1/2 packet of Italian Dressing Mix
Directions
Preheat oven to 350 degrees.
Wash potatoes. Cut into small bite size pieces. Place into one side of an 8×8 baking dish.
Add thawed green beans to the second side of the baking dish. Sprinkle the Italian Dressing mix over the potatoes and green beans, then pour the melted butter over it.
Cover with foil and bake at 350 degrees for about 1 hour.

by

Related Posts via Categories