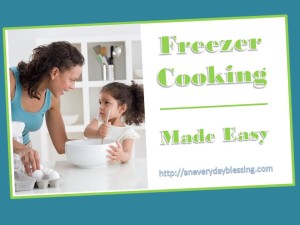 Welcome to our first "Freezer Cooking Friday" post! I am so excited to have my freezer stocked with meals for the busy holiday season we have coming up.
A couple weeks ago I was making Broccoli Cheese Soup for dinner. Since I was going to be chopping up onion, carrots and celery for this soup, I thought I'd just chop extra to make Chicken Noodle Soup and Tomato Soup as well. May as well make the mess once, right?
As chopping can be tedious and time consuming, I highly recommend using a food processor or chopper if you have one. It will cut down on the amount of prep time greatly! I love using my Vitamix to chop veggies.
To make things easy for you and eliminate some of your thinking, you can click here for the list of food needed to make these three soups!
Freezer Tips
1.  Let soup cool. Pour into a freezer ziploc bag. Lay flat to freeze. This helps save space in your freezer!
2.  Be sure to label your freezer bags or containers before freezing. That way you know what it is a month from now.
3.  Do you like soup for lunch? Freeze the soup in muffin cups. Once frozen, you can pop them out and place in a freezer bag in the freezer. About 3 muffin cup soup cubes equals a serving!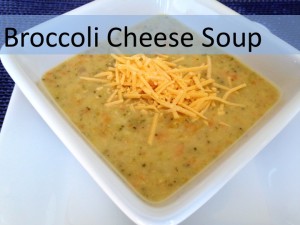 Makes 6 servings
2 Tablespoons butter
1/2 cup onion
1 cup finely chopped carrots
1 celery stick finely chopped
1 Tablespoon minced garlic
4 cups chicken broth
2 cups broccoli, chopped
1 Tablespoon flour
1/2 cup water
2/3 cup milk
2 cups shredded cheddar cheese
Dash or two of Nutmeg
Melt butter in a large skillet or soup pot. Add the carrots, onion and celery. Saute until tender.  Add minced garlic and cook another minute.
Add chicken broth and broccoli to the vegetables.  Mix flour with water. Slowly stir into the soup mixture. Simmer until soup is slightly thickened and broccoli is tender.
Add milk and simmer until heated through. Stir in cheese until melted and add the nutmeg. Serve with rice and crusty bread.
Note: My husband loves this soup with rice. Since I like it as is, I serve rice on the side. Everyone gets to put the amount of rice they want in – and then the rice doesn't get mushy from sitting in the soup for a long time.
Chicken Noodle Soup
(Recipe adapted from The Two Bite Club)
Makes 4 servings
3 tbsp butter
½ onion, diced
1 large carrot, thinly sliced
1 celery stalk, thinly sliced
½ tsp dried basil
½ tsp dried oregano
salt and pepper to taste
1 Tablespoon lemon juice
2 cups chicken, cooked and chopped 

6 cups chicken broth
1½ cups uncooked egg noodles
Directions
1.  Melt butter in a large soup pot. Add onions, celery, carrots, basil, and oregano. Saute for 5 minutes.
2.  Add the chicken, chicken broth, egg noodles and lemon juice. Bring to a boil. Reduce heat and simmer for 20 minutes. Season with salt and pepper to taste.
Tomato Basil Parmesan Soup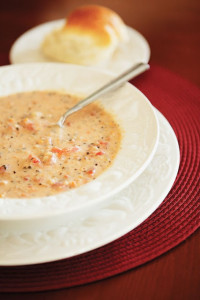 Recipe from Today's Momma. Photo by Clair Buys/BYU Magazine
Makes 8 servings
3 cups diced tomatoes with juice (you can used canned)
1 cup finely diced celery
1 cup finely diced carrots
1 Tbsp fresh oregano or 1 tsp dried
4 cups chicken broth
1/2 cup flour
1 cup parmesan cheese, freshly grated
1/4 tsp black pepper
1/4 cup vegetable oil (cocunt oil works well too)
1 cup finely diced onions
4 Tbsp fresh basil or 1 Tbsp dried
1/2 bay leaf
1/2 cup butter
2 cups milk
1 tsp salt
Directions
Note: For slow cooker instructions click here. 
1.  Heat oil in a large soup pot. Add celery, onions and carrots. Saute for 5 minutes. Add basil, oregano, bay leaf, tomatoes and chicken broth. Bring to a boil, reduce heat and simmer until carrots are tender (about 15 minutes). I like to take an immerson blender to the pot of soup at this point to give it a smooth texture
2. Meanwhile, prepare a roux. In a large skillet, melt butter over low heat, add flour and cook. Stir constantly for 5-7 minutes. Slowly stire in 1 cup of hot soup. Add another 3 cups and stir until smooth. Add back into soup pot.
3.  Simmer, stirring constantly until soup begins to thicken. Add parmesan cheese and whisk to blend. Stir in warmed milk and salt and pepper.

by

Related Posts via Categories