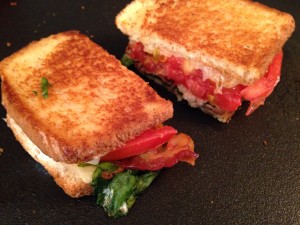 I love BLT's…minus the "t" that is. I'm not such a huge tomato fan. But my husband likes  them. Every once in awhile I will throw out the suggestion that we should have BLT's for dinner. Each time my husband wrinkled his nose at the idea, so I've never made them.
Until recently.
My husband loves grilled cheese. If I suggest it for lunch, or even when we need a quick dinner, he will never turn it down. Since we've had lots of fresh tomatoes from our garden recently, I decided to make BLT Grilled Cheese for dinner one night.
The result? Huge hit! My husband keeps asking for them. This is definitely going to be a regular in our house.
BLT Grilled Cheese
8 slices of bread (I used honey wheat)
8 slices of bacon
8 slices Swiss cheese (or whatever you like)
1-2 cups fresh spinach
1 large tomato, sliced
1 T butter
1 T mayonnaise
Directions
Spread a small amount of butter and mayonnaise on the outside of each bread slice.
Layer sandwiches with bread slice, cheese, tomato, two slices of bacon (cut in half), a small pile of spinach (it will cook down some) then another slice of cheese. Top with remaining slice of bread.
Place sandwiches onto a skillet or griddle. Cook slowly over low heat until each side is slightly brown and the cheese is melted.
Serve with fresh fruit and veggies.

by

Related Posts via Categories