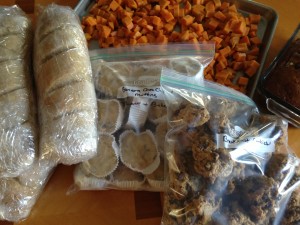 We have had some cooler weather the last couple weeks, and I finally had some time last Thursday to do some baking. During the Summer I tend to use the oven as little as possible, so baked treats are few and far between. Since I knew the weather was suppose to heat up again this week, I didn't want to miss my opportunity to do some baking and be able to get some things we love in the freezer. I loved every minute of it. Then came the clean up. But seriously, it was worth every bit of the clean-up!
Here's everything I made though…
1.  Double batch of French Bread.
I used the recipe from Mmm…Cafe. It's super easy and incredibly delicious.
2. Giant Breakfast Cookies
I followed the recipe from Heavenly Homemakers. The only thing I did differently was used both chocolate chips and raisins. And I used a bit more chocolate chips than the recipe stated.
3.  Double batch of Banana Bread
This time I used half of the batter to make muffins. Instead of baking the muffins right away, I froze them in the muffin tins. Once frozen, I popped out the muffin batter cups and put them into a freezer bag. When I'm ready to bake them I will place the frozen muffin cups into the muffin tins, let thaw and then bake normally. Thank you Heavenly Homemakers for this tip!!
4.  A batch of Sweet Potato Bites!
Instead of baking these like I normally do, I placed the sweet potatoes in my slow cooker and cooked on low for about 4 hours. Once they were soft enough, I removed them, let them cool, then peeled the potatoes and diced up into bite size pieces.

by

Related Posts via Categories