This week I'm sharing tips on how you can earn Swagbucks to help you earn money and gift cards without leaving your home. If you missed the first post, you can check it out here!
Tip 8: Print and Redeem Coupons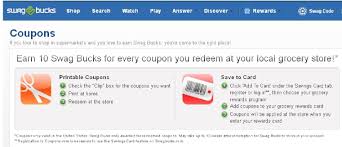 Did you know that you can print coupons from Coupons.com through Swagbucks? Simply go to the "Discover" tab at the top of Swagbucks homepage and click coupons. You only earn Swagbucks for coupons that are actually redeemed. Just like the Shop and Earn, it takes a few weeks for the points to show up.

by

Related Posts via Categories