This week I'm sharing tips on how you can earn Swagbucks to help you earn money and gift cards without leaving your home. If you missed the first post, you can check it out here!
Tip #5: Complete Special Offers
If you go to "Discover" and click "Special Offers" you'll be brought to a page with a few more tabs that each have different offers you can complete. Most of these offers require you signing up for something (like Hulu, or FreeCreditReport).
My favorite tab is the "RadiumOne" tab. Scroll through it and look for the tasks that offer 1 or 2 Swagbucks for watching a video or reading an article. Most of these require that you stay on the page for at least 30 seconds. Sometimes you may have to click to a second page.
Some special offers are also available right on the Swagbucks Homepage. Here are the ones I usually do:
1.  Look for the picture of a guy sitting with a laptop in front of him (typically in the first row). Click this and a video will pop up. You will earn 2 Swagbucks for each video. These videos are usually limited each day, but it's an easy way to earn Swagbucks.
2.  Look for the Encrave picture, usually in the second row of the homepage!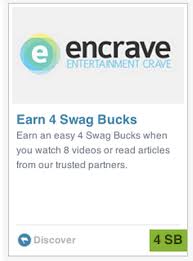 As the picture says above, you can earn easy SwagBucks when you watch or "read" articles. These activites will usually be anywhere between 2 -4 Swagbucks and can add up really quickly!
Have you joined Swagbucks yet? If not, you can sign-up today!

by

Related Posts via Categories