Have you heard of Swagbucks? If you follow any blogs, I'm sure you have at some point!
To say I love Swagbucks may be a bit of an understatement. Just ask my husband. He'll tell you I'm a Swagbucks fanatic, or maybe a little obsessed. Although I'm sure he secretly loves them too.
I started to "Swagbuck" a few years back. At the time I made maybe 20-30 Swagbucks a day. And then I learned of different ways to earn MORE Swagbucks each day and there's been no turning back.
So why do I love Swagbucks? 
1.  It helps me get stuff I want (or even stuff I need) without having to pay money for it.
2.  Swagbucks can be redeemed for gift cards for places like Amazon, Starbucks, Walmart, Target, PayPal, along with many other various stores and restaurants.
3.  I can use the gift cards I earn to buy Christmas and birthday gifts for other people.
To sum it up simply, Swagbucks saves me money!
In January of this year, my husband and I celebrated our 6th Anniversary. I decided to turn my Swagbucks into restaurant gift cards and put together a "Date Night" basket. Here's a picture of some of the gift cards we scored: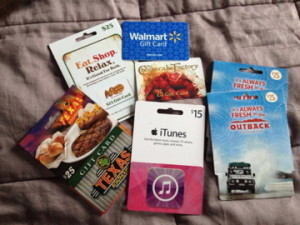 We also got some Papa John's e-gift cards that we used for at home "Pizza and Movie" date nights. All this was on top of earning over $300 in Amazon gift cards for that year. Not so bad, right?
Do you want to start earning Swagbucks (or earn more than just a handful a day)? I'll be starting a series on "How to Earn Swagbucks" on Monday. So check back and learn how you can earn money to put towards this year's Christmas gifts…..or even a vacation, after all, you can even earn Southwest Airlines gift cards!

by

Related Posts via Categories