While I was growing up my mom always had Sun Tea in the refrigerator. There's something so refreshing about a cold glass of tea on an incredibly hot Summer day! Now as I have my own family, I often keep Sun Tea available as well. And my husband is happy that he has an option other than water and milk to drink!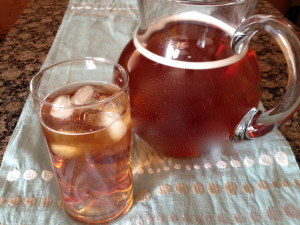 Sun Tea
4-5 black tea bags
1/2 cup sugar or honey
lemon (optional)
water
2 quart Glass Pitcher
Directions:
Fill the 2 quart glass pitcher with water. (You do not want to use a plastic pitcher, as it will give the tea funny taste).
Place tea bags in water. They will float at the top, but once they start to soak up the water they will sink down some.
Cover the top of the pitcher with plastic wrap or a towel. Place pitcher outside in the sun for 2 hours.
Remove tea bags. Add sugar or honey mixing well. You may also squeeze some lemon in for a little more flavor.
Serve over ice.

by

Related Posts via Categories