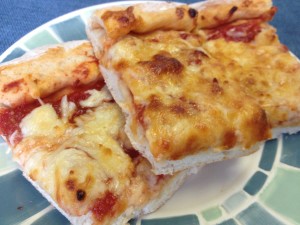 Since I was a little girl, Friday night has always been Pizza Night. It may have been frozen pizza, sometimes delivered, maybe even homemade. But on Friday night we almost always had pizza.
Friday night was also the one night where we could eat in front of the TV. We would get our pizza and turn TGIF  on TV.  You know…."Family Matters", "Perfect Strangers, "Step by Step". This was an extra special night, because we didn't watch much TV!
My husband's family also declared Friday night "Pizza Night", so it is only right that we carry on that tradition in our house!
For the most part, Farid and I are home bodies. We are on the go all week, so as much as we can, we try to keep Friday night as a family night.  I make pizza, Farid picks out a movie, and we just relax together.
So today I thought I'd share with you our pizza recipe!
Homemade Pizza
Pizza Crust
1½ cups warm water (about 105°F)
1 (1/4 oz) packet active dry yeast (2 1/2 tsp)
2 tblsp sugar
½ tsp salt
½ cup non-fat dry milk
3 1/2 cups flour
Pizza Sauce
1 15-oz can crushed tomatoes
1 tsp oregano
1 tsp garlic powder
1 tsp salt
1 tbsp sugar
(or you can just make it super easy and buy premade pizza sauce)
Toppings
2 cups shredded mozzarella cheese + whatever else you want (the options are endless…we usually just put pepperoni)
Directions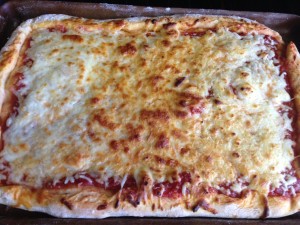 1.  In a bowl dissolve yeast, sugar and salt in water.  Let sit for 5 minutes. Add non-fat dry milk and flour.  Knead the dough until smooth. Turn the dough onto a floured surface.  Roll the dough to the size of your baking sheet or pizza pan. (I like to make it a little bigger and then roll up the sides a little to give the pizza an "edge"). Place dough onto baking sheet or pizza pan. Let rise for 15 to 30 minutes. (It's OK if you don't let it rise! The crust will still rise some while baking. The longer you let it rise, the thicker the crust you will have.)
2.  In a saucepan, mix crushed tomatoes, oregano, garlic powder, salt and sugar over medium heat.
3.  Spread pizza sauce over dough.  Top with mozzarella cheese and desired toppings.
4.  Preheat oven to 375 degrees. Bake pizza for 20 minutes.

by

Related Posts via Categories