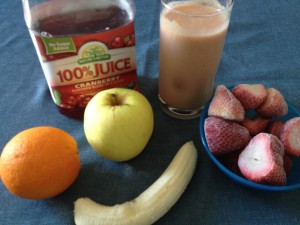 This morning I went to make a Green Smoothie and realized I forgot to pick up Spinach. So I decided to go ahead and make a smoothie anyway, this time with just fruit. After all, it's still loaded with vitamins.
Oh was this smoothie so delicious! I made the mistake of sharing a taste with my son.  He loved it. I couldn't drink it fast enough after that. He kept following me around asking for more until it was all gone.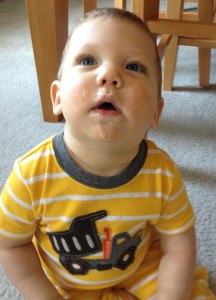 This smoothie will be the perfect Summer treat for you and your kids.  One that you won't feel guilty about serving them. Serve it up as smoothie drink, or freeze it into popsicles. Either way, the kids will love it!
Delicious Fruit Smoothie
1 apple
1 orange, peeled
1 banana
10 strawberries (fresh or frozen)
1 cup milk
3/4 cup cranberry juice
1.  Wash fruit and slice into large chunks.  Place fruit in blender (softer fruit on the bottom).
2.  Add milk and cranberry juice.
3.  Blend on high until fruit is liquid.
If using a Vitamix, place all ingredients in blender.  Select Variable 1, turn blender on and increase speed to Variable 10 quickly.  Place blender on high and blend for about a minute.

by

Related Posts via Categories