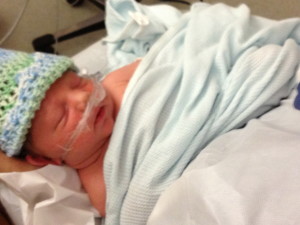 It was the day after Gavin was born.  Farid and I finally received word from our caseworker that we could go up to the hospital to visit.
As we got to the hospital, we went to see the birth parents along with our caseworkers.  We stood in the hospital room, for what felt like ages, talking with them.  After awhile, the birth father asked if we wanted to see Gavin.
Of course we did!
The little guy was still in the NICU and we weren't even sure if we could see him together.  We didn't have the bracelet, which would allow us to see Gavin a little more freely.  The birth father was only able to take one person at a time.
My heart was so full.  Gavin was still in an incubator, hooked up to oxygen – which was basically teaching him to breathe properly on his own.  But we were able to hold him.
As I held Gavin, I had the chance to talk with the birth father.  He wanted us to stay at the hospital to hang out with him and the birth mom so they could get to know us better.  They wanted to know if we were excited.
As much as we would have loved to stay at the hospital, we only had a limited amount of time.  We were unable to stay at the hospital without the caseworkers present.
I assured him that we were so very excited. I shared our story.  From the beginning of our marriage we had wanted children, but after a couple of years doctors had told me my chances of conceiving were slim to none.
I shared with the birth father that before Gavin was even born, we loved him.  We wanted him.  We prayed for him.
At some point, the birth father went to get Farid.  After talking to a nurse and explaining that we were Gavin's adoptive parents, the nurse allowed Farid and I to stay without a birth parent present.
Those 20 minutes we had together were so precious.  We prayed over Gavin. We whispered Scripture in his ear. We let him know how much we loved him.  We took as many pictures as we could.
Leaving the hospital that day, we had no idea what the next day would bring.  It turned out that we would not be able to go back to the hospital until the Parental Release was signed.  The birth family wanted as much time as they could with Gavin alone.
So again, we went back to waiting.  Tomorrow I'll share what happened next.

by

Related Posts via Categories