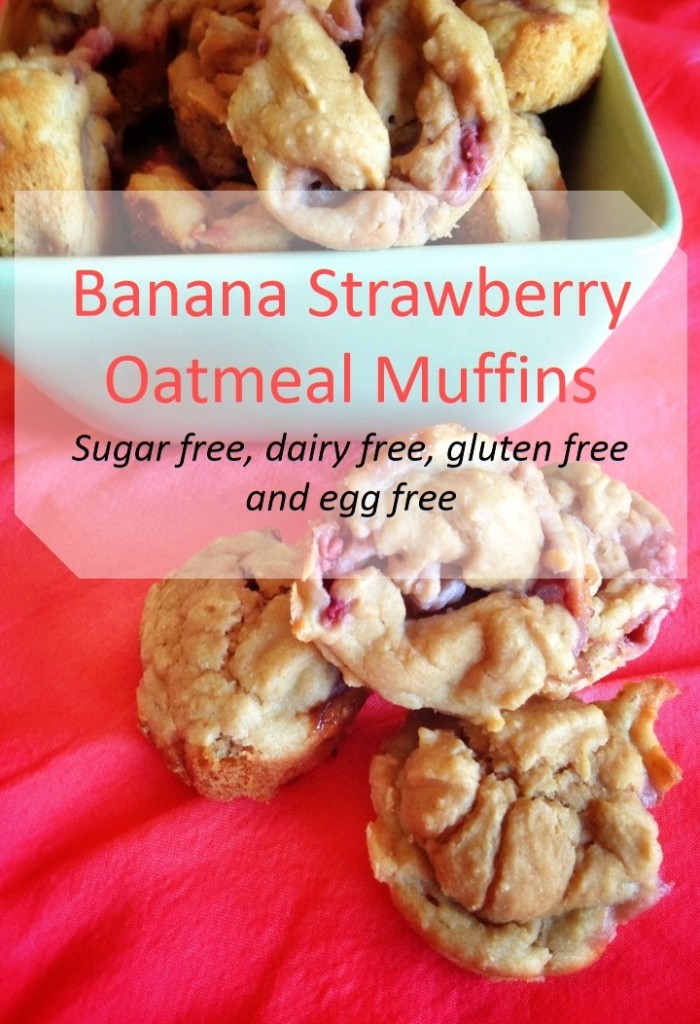 Welcome Pinners! Thanks for visiting. I've recently received a handful of questions regarding this recipe, so below is an updated post and recipe.
When I first made these muffins, they were for my little guy, who was just about a year old. I was (and still am) always looking for nutritious "snacks" to feed him.  It is so easy to buy baby puffs or other pre-packaged convenience foods, but I cringe at the lack of nutritious value and the amount of sugar put in commercial baby food.
Awhile back I came across an Oatmeal Muffin recipe on Pinterest that had simple ingredients.  I was all set to make them for myself when I realized I didn't have the Greek Yogurt the recipe called for.
As I was making the substitution of applesauce for the yogurt, I decided to add some strawberries in as well. Since the muffins had applesauce, banana and strawberry, was sugar really needed?  At this point, I thought I may as well try making them without the eggs….just to see how they would turn out. These muffins would also be a perfect finger food for my son!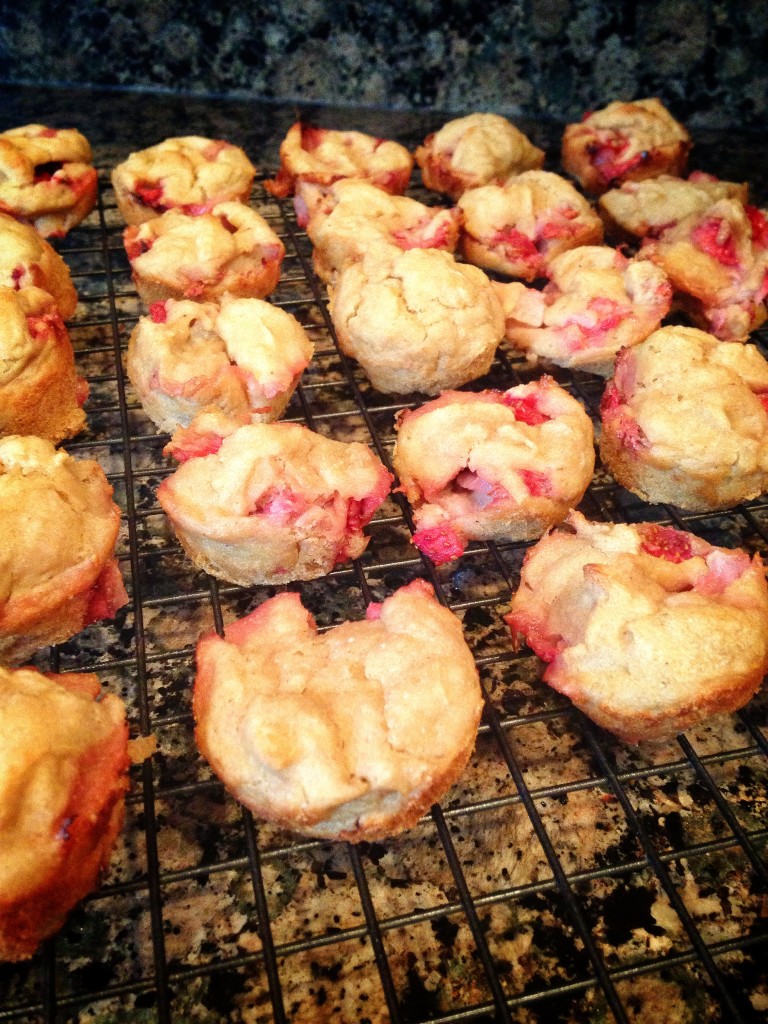 I love these muffins because not only are they healthy, but they are also gluten-free (if you use gluten-free oats), dairy-free and egg-free.  They are packed with nutrition and I can feel great about giving them to my little guy!
Fast forward a year and a half, and my son is now 2 1/2 years old. As I made these muffins this week, he couldn't stop eating them. And I was okay with that because they are completely healthy. How can I say "no" when they have three fruits, a whole grain and absolutely no sugar in them?
And let's face it, even without sugar, they are pretty tasty to me too. Who needs the extra sugar anyway?
Banana Strawberry Oatmeal Muffins
1 cup unsweetened applesauce
2 ripe bananas
10 large strawberries (washed and stem removed)
2 1/2 cups oatmeal, ground into flour (it comes out to 2 cups of oat flour)
1 1/2 tsp baking powder
1/2 tsp baking soda
1.  In a blender, grind oatmeal until it's fine like a flour.  (We have a Vitamix, so I used the dry grain blade to do this).  If you are using the same blender to make the muffins, pour the oat flour into a bowl and set aside.
2. Place applesauce, strawberries (see note below), banana, oatmeal flour, baking powder and baking soda into the blender.  It blends best if the wet, soft ingredients are on the bottom.  Blend well.
Note:  I have also diced up the strawberries into small pieces and folded them into the batter before baking.
3.  Pour batter into greased mini-muffin tins.  I fill them  almost to the top. These muffins don't raise very much. Bake at 400 degrees for 15-18 minutes, until toothpick comes out clean.
This recipe yields approximately 30 mini-muffins.
* NOTE:  Check with your pediatrician before serving strawberries in any form!
If you want to try making these muffins for yourself, you can follow this recipe:
Banana Strawberry Oatmeal Muffins (with egg and sugar)
1 cup applesauce
2 ripe bananas
10 large strawberries (washed and stem removed)
2 eggs (optional)
3/4 cup sugar
2 1/2 cups oatmeal
1 1/2 tsp baking powder
1/2 tsp baking soda
Follow directions from above!  Also, if you like chunks of strawberries, you may dice them and fold them into the batter before placing in muffin tins!

by

Related Posts via Categories