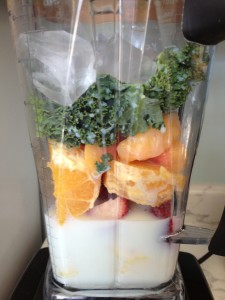 As I shared last week, my husband and I have been enjoying smoothies in our house the last few months.  I love that it's an easy way to add fresh fruits and vegetables into my diet.
When pineapples started going on sale this season, I searched Pinterest for the best Tropical Smoothie.  Almost every recipe called for yogurt (which I rarely have on hand) and orange juice.  While I believe the orange juice would give the smoothie a true tropical color, I didn't want the added sugar.
So I started experimenting with different variations. Finally, I landed on the recipe below.  This tropical smoothie has become one of my favorites!
Refreshing Tropical Smoothie
1 orange
1 cup peaches
1 cup pineapple
5 strawberries
1 cup (packed) spinach or kale
1 cup milk
1 cup of ice
1.  Wash and slice fruit.
2.  Place all ingredients in a blender or food processor and blend well.
If using a Vitamix, place all ingredients in blender.  Select Variable 1, turn blender on and increase speed to Variable 10 quickly.  Place blender on high and blend for about a minute.

by

Related Posts via Categories