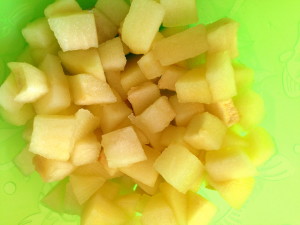 I love serving my little one wholesome food.  When it comes to finger foods, it's hard to find healthy, inexpensive options.  Apple bites are the perfect finger food as they are simple to make and tasty too.  I am sure your little one will love them just as much as mine does!
Apple Bites
4 apples
1 1/2 cups water
1.  Wash and peel apples.  Cut into small bite size pieces.
2.  Pace apples and water in a single layer on a cookie sheet or bar pan.
3.  Bake at 350 degrees for 35 – 40 minutes, or until apples are soft and tender.
4.  Store in refrigerator for up to a week.

by

Related Posts via Categories