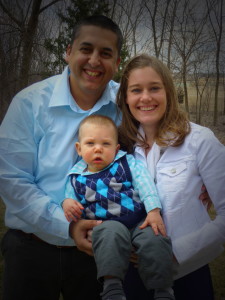 Easter Sunday is one of my favorite days of the year.  It's a day to celebrate that Christ is Risen.  It's a day to spend time with family and eat entirely way too much food.
Do you feel like you need to detox after eating too much?  I know I do!
For the last couple of months my husband and I have been making a lot of smoothies.  We drink one for breakfast almost every week day.  I love it. I feel like it is not only satisfying, but it also gives me energy.
Now, if you've skipped ahead and noticed "spinach" listed in the ingredients…don't knock it. Let me assure you that you won't taste it.  It's much better than you would think.  Spinach is packed with antioxidents like Vitamin A and Vitamin C. It contains iron and B-complex, as well as soluble dietary fiber.  Spinach is also a great source of omeg-3 fatty acids. So at least give the spinach a try in the smoothie!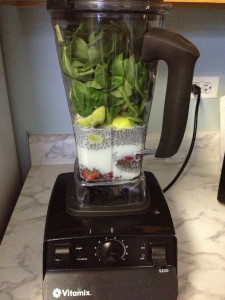 Green Smoothie
(Makes 2 large glasses)
10 Strawberries
1 banana
1 Apple
1 Orange
2 cups spinach
1 cup unsweetened almond milk (or any milk you have)
3/4 cup chia gel*
1.  Wash and slice fruit.
2.  Place all ingredients in a blender or food processor and blend well.
If using a Vitamix, place all ingredients in blender.  Select Variable 1, turn blender on and increase speed to Variable 10 quickly.  Place blender on high and blend for about a minute.
*If you don't have any Chia, you can just add 3/4 to 1 cup of water or ice.  The chia doesn't add any taste, just some extra nutrients that are super good for you!

by

Related Posts via Categories