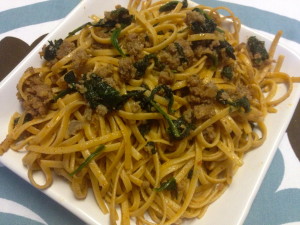 I am super excited today! My husband has been away on business for almost a week and he is finally home.  In honor of his homecoming, I thought I'd make one of his favorite meals: Sausage Spinach Pasta.
This dish is one of the two meals he has EVER cooked for me.  It was something his mom made growing up, and one he gets excited about when he knows I'm making it.
Before I share the recipe (my version of it anyway), here's what we plan to have for dinners this next week:
Thursday:  Sausage Spinach Pasta
Sunday:  Pulled Chicken Sandwiches (a new recipe I'm trying from Blog Chef)
Monday:  Lasagna with garlic bread and tossed salad
Tuesday:  Chicken Quesadillas with rice, fresh fruit and veggies
Sausage Spinach Pasta
1 lb linguine (or pasta of choice)
1 10oz bag of fresh spinach
1 lb ground Italian sausage (mild or spicey)
½ tsp salt
1 tsp garlic powder
¾ tsp onion powder
1 T chili*
pinch or two of crushed red pepper flakes
4 T melted butter or some olive oil (just enough to coat the pasta so it doesn't stick)
Cook pasta according to package instructions.
Meanwhile, brown sausage.  Pack fresh spinach into the skillet with the sausage, letting it cook down with the sausage.
Combine pasta, sausage/spinach mixture and remaining ingredients.  Mix well.
*  If you are using spicy sausage  (or if you don't like spicy dishes) you may want to omit chili powder and red pepper flakes. You may also start with just a teaspoon of chili powder and add until reaches desired taste.

by

Related Posts via Categories