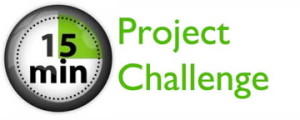 A lot can be done in 15 minutes.  A load of laundry can be folded and put away. Windows can be washed. A room can get decluttered. A bathroom can be cleaned.  My house can get vacuumed (it's not that big!). The list goes on.
For me, I can keep up with everyday housekeeping.  It's part of my routine.  It's the "extra" things, the little (or sometimes big) projects that seem to loom over me.  Every week I think, "This is the week I'm going to get a project done." Yet week after week the projects remain on my list.
One of the biggest projects on my list has been decorating my son's bedroom.  He is almost one year old and it is still not finished.  Oh, do I feel like a complete failure sometimes when I see someone else's nursery all beautifully decorated and incredibly organized. Everything seems to be in place.
Then I look at my nursery.  It's a work in progress for sure! But honestly, when have I had the time to focus on it?
Over the last month or so, I have diligently  worked on something, one small step at a time.  Oh the sense of accomplishment as I complete the small tasks!! I am so excited to finally be in the final phases of decorating and organizing the nursery! And this is what I learned…
1.    Break the project into smaller projects
Make a list of everything that needs to be done.  For our nursery, my list looked like this:
–       Paint picture frames
–       Hang owl pictures above crib
–       Put up the owl tree decal
–       Paint Ikea spice racks for bookshelves
–       Hang bookshelves
–       Organize closet
 2.    Determine the plan of attack
Know what needs to be done and figure out the steps needed to take to get it done.
Now, the owl tree decal was a project in itself.  Each limb of the tree, every single leaf, each owl, and each owl accent needed to be cut out.  Then, each individual pieced needed to be rubbed with a credit card on the backside to activate the adhesive. Finally, each individual piece needed to be placed on the wall, rubbed again, and the front piece of sticky paper removed.
3.    Take 15-minutes a day to work on the project
Trying to find time to get the owl tree up in a single day was nearly impossible.  So as I had a few minutes, I would cut out each piece, or rub the backside.  After 2 weeks of tedious work in small chunks of time, the tree was finally up!
This week, I plan to finish painting the Ikea spice racks.  Saturday, I pulled them out of the garage and put them on a big board on my dining room table.  This gives me easy access AND motivation, because I don't want to have to look at them every day for the next month! After 15-minutes of work, look what I was able to accomplish: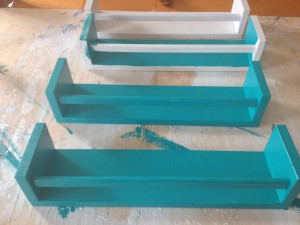 Two and a half shelves got a coat of paint!  I can definitly get these fully painted this week!!
Working on something for 15-minute at a time is not so overwhelming! 
What project do you need to get done?  Start today, just 15-minutes at a time, and you'll be done sooner than you know it!

by

Related Posts via Categories