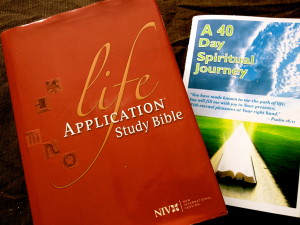 I remember when Christie and I were dating. I came to her house to spend time with her and her family, and it was time for dinner.  I remember her father reading a few verses from the Bible. Then out of no where he began to sing. I don't remember what the song was.  My first reaction was to laugh, but I had to fight those emotions because nobody was laughing.  Everyone was singing. Finally, the song was over!  We prayed and began to eat.
What was so strange about the ordeal? I realized that this man was leading his family in worship: reading God's Word, singing praises, and offering prayers of thankfulness.
As a husband, father, and youth minister the area I'm most often convicted in is my responsibility as a man to lead my family in family devotions. It is an area that I fight to be more consistent in, and I'm sure there are other guys out there who struggle with it as well.
My passion is to see more men leading their families in this way. I realized that this process doesn't have to be complicated. I like to lead ours at the dinner table. It usually starts with reading scripture and asking questions.
Recently, our church has been going through a 40-day spiritual journey. We have been using a simple devotional book, written by my father-in-law, that uses the SOAP method [Scripture, Observation, Application, Prayer]. Instead of writing out the scripture verse, I just read it a couple of times and then my wife and I will discuss some observations and share application.
We usually end our devotion time with Youtube videos of some of our favorite worship songs. This also helps calm our little guy, Gavin, down. He loves it and it is a special time for us.
Over the last few weeks our family devotions have been consistent. I'm afraid I have some challenges ahead with business trips coming up. Thanks to modern technology like Facetime, there's no reason why I shouldn't be able to continue our family devotion time while I'm away.

by

Related Posts via Categories